NuVoodoo does some of today's most impactful Radio analysis. We routinely quote Carolyn and Lee.
In a recent Midweek Motivator (Audience Development Group's weekly think-essay) we addressed creativity in crisis; on air content and commercial writing and production. Along comes the following data and narrative, thanks to our colleagues at All Access… BOOM.
We're all aware that current spot-loads leave radio painfully over-commercialized at times, compared to even the free levels of Spotify, Pandora and other online players. In the PPM world, fewer breaks yield better ratings than more breaks. So, in the most extreme cases, breaks get long enough that some advertisers complain.
While the digital channels struggle, often repeating the same few units to the point of annoyance for listeners, broadcasters face comparisons that didn't exist before the proliferation of hyper-targeted digital media. As advertising becomes increasingly personalized and context sensitive, in the most recent NuVoodoo Ratings Prospects Study, we saw 3/5 of most music format P1's agreeing most commercials on the radio don't apply to [them].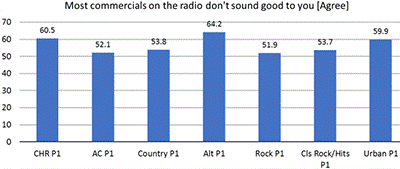 We're becoming accustomed to digital ads chasing us around based on browsing and reactions to Social Media advertising. (That's something that NuVoodoo does routinely for its marketing clients. As consumers become more comfortable listening to streaming audio on their smartphones, a digital ad – a virtual billboard – can turn directly into a listening occasion.) We're coming to expect that ads will be tailored to us – something that's tough to do for broadcast radio, given its comparatively wide-ranging audiences.
At the same time, we've largely given up trying to influence the creative choices of clients. So, majorities of all music P1 constituencies agree most commercials on the radio don't sound good to [them] – even among the generally radio-friendly P1's for Classic Rock/Classic Hits, AC, Country and Urban AC. Many young PD's can't even remember a time when PD's could reject spots or have commercial creative changed to suit a station's targeting.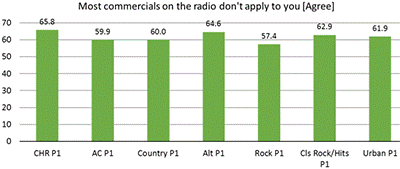 For years now, we've tested every song that we play – generating great playlists and schedules for wide, sometimes disparate audiences. Many morning shows have been improved with supportive coaching, supplemented with the results of rheostat testing of their shows. Occasionally, courageous broadcasters subject their imaging pieces and hosts' presentations to audience reaction. Commercials don't get as much scrutiny. Which is a shame. While there are costs involved, it's possible to test commercial creative for consumer reaction and, at least, memorability.
Think about it another way. Stations lavish hours on making playlist decisions and scheduling music. Personalities spend time prepping shows. PD's and production people invest hours on station imaging. Too often, radio commercials are an afterthought for an agency placing a multimedia buy or written by an overworked account executive. At some point, we fret over exploiting theater of the mind for every phase of what's on the air … except for the commercials.
Even if we can't make radio commercials apply to more people, we should be able to make them sound better. We should be able to give account executives more resources to help clients make better creative to improve their results – and make radio better for listeners. We need station creative teams to have more influence in making better commercials – and driving better results. We need, as always, to strive to make better radio.